Pooja Bhatt makes her Instagram account private after receiving death threats; writes a long post for the haters
Share this on:
FacebookTwitterPintrest
By –
TIMESOFINDIA.COM
Updated: Aug 21, 2020, 19:07 IST
facebooktwitterincom
Mahesh Bhatt's daughter Pooja Bhatt is quite active on social media. The actress, who is known for her outspokenness, has now made her Instagram handle private. She took to Instagram and announced the same.
She revealed that she has been receiving death threats and has been advised to turn off her comments instead of making her handle private. Post Sushant Singh Rajput's untimely demise, a lot of star kids and Bollywood celebs have been targeted by the netizens. Pooja's father Mahesh Bhatt is being linked with Rhea Chakraborty. The family of Sushant has even leaked the Whatsapp chats between Rhea and the director.
She shared a long post along with a quote that read, "I don't have the time, energy or interest in hating the haters; I am too busy loving the lovers." In a long post, she wrote, "This has to be said. Instagram seems to have become a place where people anonymously & otherwise use their access to hurl abuse, threaten rape and goad you to 'go die'. I used to ignore this sort of talk as I always believed that only people who are in pain themselves want to hurt another and also if you accept love, you must accept criticism too. But is someone wishing you and you family death, constructive criticism or just an attempt at vile cyber bullying? I have been advised to turn off all comments but by doing thatyou block out all the positive, well meaning constructive feedback as well. Why should I push back the people who give me good vibes for the ones that only spew venom towards people in general? But what I have done now is make my account private. You want access to my world? Make a request." Have a look here: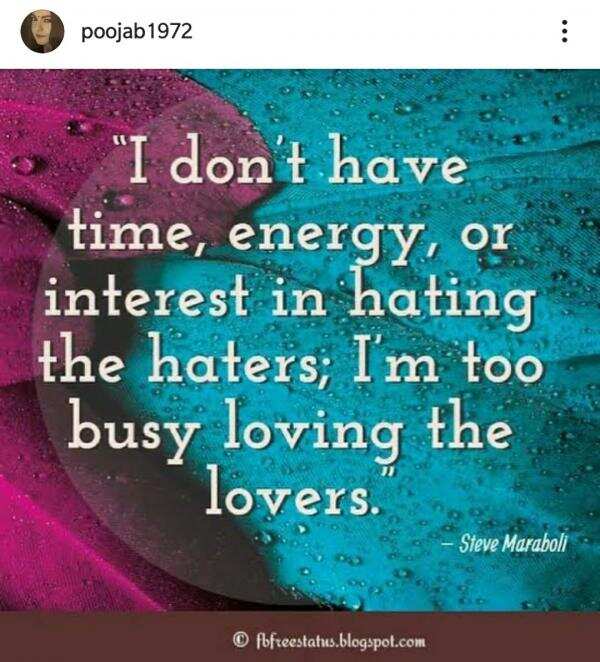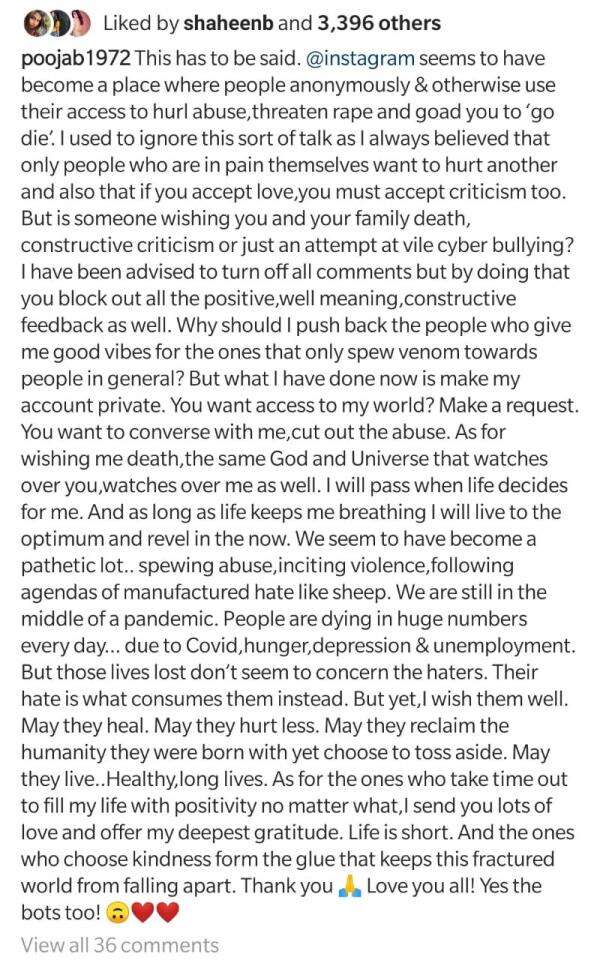 Meanwhile, Pooja is awaiting the release of 'Sadak 2' which also stars Alia Bhatt, Sanjay Dutt and Aditya Roy Kapur. The film is set to release on August 28.
End of the article