CHENNAI: The doubling time for the Covid-19 infection has nearly tripled in the city in the past one month from 25 days to 70, according to data released by the civic body on Saturday.
The Greater Chennai Corporation says the test positivity rate (TPR) too has dropped from 12% on July 7 to 8% on August 7. It has also increased daily tests per million population to 1,525 from 1,267 a month ago, while the WHO has prescribed 140 tests per million.
Virologist T Jacob John said these number definitely point to the pandemic slowing, but the cases have not stopped. "If the city has been testing adequate people constantly over the past month and the tests per million is higher than what the WHO has prescribed, we are on the right track. In Mumbai, sero survey data showed that the places that had high number of cases and high incidence of disease have slowly shown lower numbers. If Chennai also has reached a point where a specific population has already been exposed to the virus, it would mean the transmission is slowing," he said.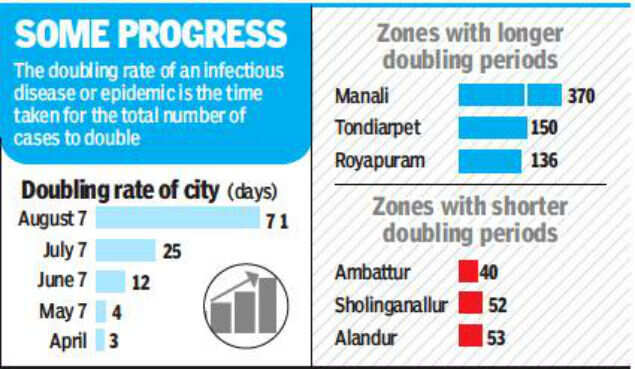 In Tondiarpet, Teynampet, Royapuram and Thiru Vi Ka Nagar that have dense population and also high incidence of cases, the doubling time is between 90-150 days, which is a good trend. The test positivity rate is also below 10%.
Joint commissioner (health) P Madhusudhan Reddy said" Sustained surveillance across the city at the household level and through fever clinics gave us these results. Effective quarantine management, extensive contact tracing and early testing and tracing have helped us reduce TPR and increase doubling time. People have also cooperated by wearing masks."
P. Ganeshkumar, scientist at the ICMR National Institute of Epidemiology, said to say that the transmission has reduced the proportion of cases rising out of contacts should be more than 50%. "If that is achieved then, we can say that slowing down of transmission is happening. However, with the current reduction of TPR below 10% and constant number of tests every day, the reduced occurrence of cases probably denotes prevention of major spread. In fact, WHO prescribes 5% TPR and we are hopeful of achieving it soon," he said.